As your construction company grows, the harder it becomes to manage effectively. As you bring new people into the mix, work on larger projects, and work hard to keep up with the regulation changes, the way you work can become less organized, impacting your productivity and profit. To address these hurdles of business growth, you may be considering adopting technology to support your business, and that is what brings us to designing a digital workflow for your construction business.
What is a digital workflow?
A workflow is simply the way people get work done, often workflows are a repeated activity, with a predictable set of inputs and outputs. For example, if you were a writer for an editorial, your workflow might look something like:
The writer submits their draft to the editor.
The editor either approves the draft or rejects it with notes.
If the draft is rejected, the writer makes the edits and resubmits the draft.
Otherwise, the writer publishes the draft to the editorial.
This flow could also be represented in a flowchart, which would look something like this: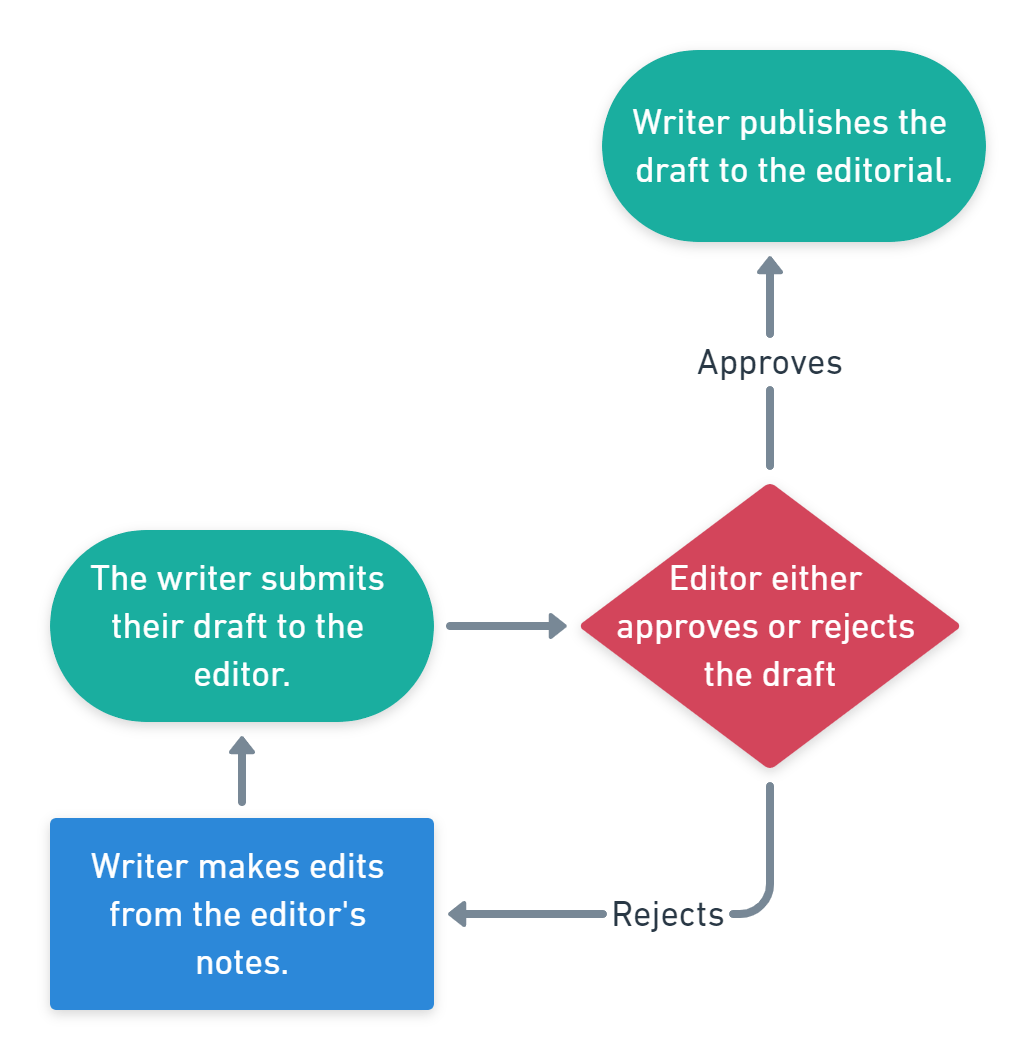 A digital workflow documents and supports a workflow digitally. This includes elements such as  maintaining a digital copy of your workflow, like the flowchart above, creating digital guidelines to assist teams with carrying out the workflow, and leveraging technology to optimize or automate your workflow where possible.
Why does my construction business need a digital workflow?
A digital workflow provides plenty of benefits to businesses in construction, as well as addressing some of the main challenges that rapidly growing construction companies face. A digital workflow supports the business processes you're already doing, leveraging technology to simplify, automate, and optimize your business. Some advantages are:
Reduced admin overhead: Spend less time on data entry, transcribing paper forms, and repeating manual operations that could be automated.
Shared knowledge base: By keeping digital documentation of your business processes, it makes it easier to produce consistent results, as well as train new people how to carry out your business processes.
Better project visibility: A digital workflow makes it easy for managers to understand and track the status of projects, as well as the performance for your processes to identify areas of improvement.
How do I create a digital workflow for my construction business?
There is no "one size fits all" approach to creating a digital workflow, but here is what I recommend to get you started:
1. Document & flowchart your business processes
The first step to creating a digital workflow is understanding what your workflow normally looks like. To achieve this, take a look at the tasks you normally carry out in your construction business and write down the steps you carry out. To help you with this job, pretend like you're writing a guide for a new employee that they would use to learn how to carry out the task.
After you have written down your business processes, you can optionally flowchart each process using a tool like Whimsical. Flow-charting your business processes helps to create a "birds eye view" of the task, to analyze each step and identify areas for improvement.
2. Identify how you can leverage technology in your business processes
The next step is to look at your documented business processes, and identify how you could use technology to simplify, optimize, or automate your steps to support your business. Here are a few technology considerations:
Data Entry & Checklists
Do you enter data into paper forms, or keep checklists for your business processes? Going paperless is a great way to improve productivity, taking hassle out of recording data on-site and handling the data on the admin end. Mobile data collection apps can be used to record data on-site with a range of devices, and can also typically used to manage checklists. To find the right option for recording and storing your forms, give a variety of data collection apps a try to see if it's a right fit for your company. Most data collection apps offer a free trial or free version of the application, you can create an account with Locale Central for free.
Automation
Automation is a huge area for optimizing the productivity and profitability of construction companies, but the specific automation solution depends on the processes that you carry out. On the really technical side, there are now options like leveraging control systems and robotics to mix concrete, drones to survey working areas, and IoT (Internet of Things) sensors to collect and process data on-site.
Simpler ways you could automate typically involve how you process and handle the data, documents, and communication for your construction business. Mobile data collection apps, as we have previously mentioned, can help automate some elements of capturing and exporting your data, but other considerations for automation are:
You can set up email filters with most popular Mail apps such as gmail, to organize your mail inbox, forward emails, and simplify your communication.
A tool like Zapier can integrate with many of your existing applications to automate a variety of digital tasks you carry out.
Project Visibility
Providing visibility on your projects can help you to understand where a project is at, identify potential issues early, and better manage your team. Mobile data collection apps such as Locale Central help to achieve this by providing a central place to view and manage all the data you need.
3. Share your documentation
Documentation for construction companies is only effective if it's publicly available and easily accessible by your team. To achieve this, keep your documentation in a central place, such as a Google Drive or Notion, and foster a culture within your team to refer to and maintain your documentation so that it continues to stay relevant for your business processes.